How painful these last weeks have been as we have individually and collectively processed some combination of anger, grief, rage over the killing of two more Black Americans at the hands of the police.
There are times in our history when momentous change happens, sometimes galvanized by an event so outrageous it cannot be ignored or explained away. This week I have wondered if the murders of George Floyd and Breonna Taylor might be such a moment, that all Americans will finally come together to begin to address the wrongs of our history and in particular the harm perpetrated against Black Americans.
I hope so.
For those who are old enough to already know and have experienced both racism and fear of any interaction with police.
And for the generations to come that they may grow up and live in a society that welcomes and offers all of them the same opportunities and promise.
I am proud of the DCFYI youth who have taken part in demonstrations (and those who recognize the power of their vote and made sure to do so despite a pandemic and experiencing their own anger or grief).
And grateful to the adults who have continued to support those youth, both talking about recent (and not so recent) events and ensuring they are staying safe.
Please stay safe; continue to find ways to fight for peace and justice,
Susan
---
Virtual Events
For now we are holding virtual events.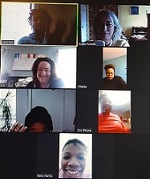 These events are not posted on the website calendar.
If you would like to participate, let us know.
We are starting to plan for (small) in-person events. We miss seeing everyone.
---
We're Hiring!
Family & Youth Initiative is seeking two people to join our team: a full-time Programs Manager (to manage and drive forward DCFYI's mentoring and host parent programming) and a part-time Operations Coordinator (to help on-ramp new volunteers, plan events, support fundraising, and manage communications).
We are looking for people who are problem-solvers, who take initiative and are highly organized, work independently, are comfortable working in a culturally diverse environment, have strong communication skills, and are ready to roll up their sleeves.
Please tell anyone who might be interested.
Details and application information on the DCFYI website.
---
Thank you!
This spring, a pro bono team from Compass completed a SWOT (strengths, weaknesses, opportunities, and threats) analysis for DCFYI to help us determine strategic priorities.

We so appreciate the volunteers, professionals, and youth who participated in interviews with the team.

And are so grateful to the Compass team for giving us valuable insights that are now guiding the board's strategic planning work: Catherine Gwin (project leader), Stephanie Potter, Steven Hayes, Tara Marcus, and Thomas Mingey.

Thank you.
---