The uncertainty and tension of the last few days (as for much of this year) reminds me that knowing one has a safe and secure place in the world is a type of privilege. And that too many people lack that sense of security.
So it seems fitting that November is National Adoption Month. It's a time to honor the complexities of adoption - the loss of birth family connections felt by many adoptees as well as the joy of new families formed through adoption.
It is also a time to bring renewed awareness to the tens of thousands of children who are in foster care and waiting for adoptive families all across this country.
Some of those children are in this area and some participate with us at Family & Youth Initiative.
Gabby is one of them. A relatively new DCFYI participant, Gabby is curious, funny, caring, and imaginative. She enjoys being social. Gabby loves trying new foods, getting her nails done, creating stories, and anything involving hair and dolls. Gabby needs a family who is excited to celebrate her identity and will demonstrate patience and awareness in meeting her needs.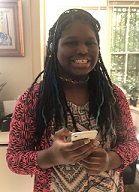 Think you might be the family for Gabby? Her CFSA adoption recruiter Brian Michael Carr would love to hear from you. (We can also share a video if you would like to hear Gabby in her own words; please email me and I can share the video.)
Want to talk about other DCFYI teens or generally about adoption or host parenting? Just let us know! We would love to talk with you.
Teens in foster care are less likely to be adopted and more likely to "age out" of care without strong or stable family support. We all need secure lifelong connections. Having the consistent support of loving adults helped many of us successfully enter adulthood. Teens in foster care deserve no less.
Please share this email or other DCFYI information with adults you know. Help us find adoptive families for Gabby and others who, like her, are waiting.
We should all have the privilege of a safe, loving home,
Susan
---
Upcoming Events
November 7 - Making Beats virtual demonstration with experimental electronic music producer Dan Wentworth.
November 14 - Kickball.
December 12 – Holiday Parties 2020 (small, outdoor, and socially distanced).
Because of size limitations, events are limited to new and matched mentors, host parents, and adoptive parents. Event details on the DCFYI website calendar. Please contact Chanelle for information and to RSVP.

---
Thank you!
Thank you to our incredible sponsors, honorary co-chairs, donors, event committee, and everyone who helped make our first virtual Establishing Roots fundraising event a great success! The nearly $76,000 raised gives young people in foster care loving adults in their lives. Hearing directly from a DCFYI mentee and her mentor during the event was a highlight and the auction bidding was exciting and competitive! We hope to see you next year in person for Establishing Roots.
___________________________________________
Holiday Gift Giving
We are once again including gifts for DCFYI teens and young adults as part of our holiday celebration. Please consider signing on to fulfill a young person's wish list this holiday season.

Read the full details and then submit the linked holiday giving form by Nov. 16 if you would like to participate. Questions? Please contact Julie.
Thank you.
___________________________________________
Will your holiday shopping include Amazon?
If yes, support DCFYI when you do. When you shop through AmazonSmile, a small percentage of what you spend comes back to DCFYI as a donation. Go to smile.amazon.com and choose Family and Youth Initiative as your charity.
Thank you!