This year has certainly not been what any of us might have anticipated.
2020 has been challenging even for those whose health, family, or finances have not been directly affected. For some, the year has been much worse.
We were tested here at Family & Youth Initiative. Along with missing other friends and family, we have missed our weekend events and getting to see DCFYI youth and volunteers. Many teens have shared the activity they can't wait to do when we get back to in person events. Each of us have activities we're missing. But even more, we are missing the opportunity to talk and laugh (and eat) together. This community is so important to so many people. Getting together allows us to reconnect and continue to deepen relationships.
In the spring, we worried about the young adults recently aged out of foster care and not yet financially self-sufficient who suddenly and unexpectedly became unemployed, usually with limited savings to tide them over. Other young people faced online classes and being cut off from important peer relationships.
And while the ensuing months have not been easy, we know it would have been much worse if these young people had not had all of you in their lives.
We are so grateful to everyone who has supported DCFYI and these amazing young people - whether financially, offering tutoring help, opening their home to youth who needed a place to live, moving furniture for new apartments, help with job searches (and figuring out unemployment), and for the mentors and host parents and others who have stayed in regular touch and helped DCFYI participants get through this most extraordinary of years. It is frankly amazing that every young person who had housing has stayed housed, very few have quit school, and for most participants, life is looking up.
We are looking forward to 2021: being able to come together in person again and bringing many more teens into the program so they can be part of this amazing community. We are also planning to adapt / expand programing for youth aging out of foster care so we can wrap more support around them in the first, most challenging years of adulthood.
Please consider a year-end donation to help us reach more teens in foster care as well as those who have aged out of care and continue to need support.
We could not do this without you; thank you for what you have made possible this year and for what you will help us do in the year/s to come.
Stay safe, stay masked; we look forward to seeing you soon,
Susan
---
Upcoming Events
December 12 – Holiday Gift Giving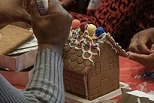 December 13 - Gingerbread House Making (virtually).
With colder weather and increasing covid numbers, we will be holding virtual events only until the spring.
Event details on the DCFYI website calendar. Please contact Chanelle for information and to RSVP.

---
Thank you!
Thank you to everyone who has contributed toward gifts for DCFYI youth! We are missing our annual holiday party but so grateful that DCFYI participants are still feeling the collective love.

Truly this is icing on the cake of so much support from so many of you that has helped DCFYI youth get through this most difficult of years.
Thank you.
___________________________________________
2020 Charitable Giving
Did you know? The CARES Act increases the size of donations you can deduct when you file your 2020 income taxes.
This one-time adjustment makes December the perfect time to do your charitable giving, whether to DCFYI or other non-profits you support!
More information is on the DCFYI website.
---
Will Amazon be part of your holiday shopping?
If yes, support DCFYI when you shop. When you buy through AmazonSmile, a small percentage of what you spend comes back to DCFYI as a donation. Go to smile.amazon.com and choose Family and Youth Initiative as your charity. We benefit and there is not cost to you.
Thank you!