In December I caught an episode of "The Hidden Brain" that resonated, especially after the tumult and pain of 2020.
It was a discussion about resilience and reacting to setbacks. Some theoretical (I now know more about the Stoics) and also very practical suggestions about training one's brain to manage responses to negative things.
Some people do this naturally; it's who they are (think Lou Gehrig, whose farewell speech was included). But the rest of us can learn from:
Negative visualization - allowing yourself to very briefly think about not having the people or things you take for granted in your life and then being appreciative that they are;
Stoic Gods game - responding to the bad stuff not with anger or frustration but as a challenge from the Stoic Gods (while keeping a sense of humor).
I highly recommend a listen [Minimizing Pain, Maximizing Joy - 12/14/2020]. While we surely hope for a better year ahead, the reality is that life will continue to throw curveballs our ways.
For those who have young people in their lives think about the value of them seeing this approach modeled (and also learning from those young people who already exhibit incredible resilience!).
Stay safe, stay masked; take the vaccine! We look forward to seeing you soon,
Susan
---
Upcoming Events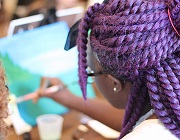 January 30 – Virtual Paint Class with ArtJamz (limited group size)
February 20 - New mentor training (for those who have completed a mentor application and attended orientation)
February 27 - Virtual Songwriting Workshop (limited group size)
With cold weather and increasing covid numbers, we are holding small virtual events, with priority for unmatched mentors and host and adoptive parents.
Event details are on the DCFYI website calendar. Please contact Chanelle for information and to RSVP.

---
DCFYI Holiday Program - 2020 Style!
As with most 2020 plans, the pandemic forced us to re-imagine our beloved holiday party. We couldn't gather in person but we still wanted to connect and share some holiday magic with DCFYIers. So on a Saturday in December, fifteen volunteers delivered mugs of hot chocolate and holiday gifts donated by 42 generous sponsors to 35 DCFYI young people. The DCFYIers were thrilled and grateful for the gifts and (outdoor) conversations at their doorsteps.
Thank you to everyone who made this sharing of holiday cheer possible! The holiday party is always a highlight of the year. Being able to spend even a little time with each other was more important than ever this year.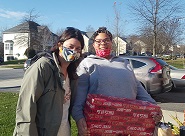 ___________________________________________
Lasting Relationships
If you ask young people what they cherish about Family & Youth Initiative, it's the relationships - with peers and adults they would not otherwise know. Relationships start and are nurtured at DCFYI events. They grow through one on one contact that happens outside events. Hear from Maggie, Charay, Hamilton, Robert, and other current and former DCFYI participants about the importance of these relationships and the impact of DCFYI on their lives. On the DCFYI blog.
---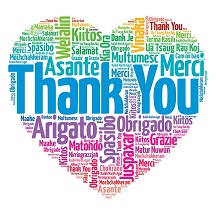 Your support during 2020 has been truly inspirational and gives promise for brighter days ahead. Thank you for your extra support and outreach to teens, your countless volunteer hours, your donations to keep our program running, and your generous holiday gift sponsorships.
Thank you for making the DCFYI community possible!