In January 2020, the Family & Youth Initiative board added a new line item in our budget for a "Fund for Critical Youth Needs."
While budgets may not sound exciting, this was a big step for DCFYI - both that we had funding to cover and could begin to fully account for this type of spending (and move it out of the pockets of DCFYI staff and volunteers).
The purpose of the fund is to ensure that "DCFYI youth are able to cover critical needs related to housing, transportation, and/or job-related expenses (including clothing)."
We anticipated using the fund to help young people get to interviews or new jobs or pay for uniforms before they received first paychecks; or to help those already aged out of care with rent shortfalls (often related to being between jobs).
Needless to say, we were not anticipating a global pandemic. But it was a game changer to be able to buy groceries for youth aged out of care who suddenly found themselves unemployed and without a way to replace that income. As jobs started to hire again, we are ensuring youth can get to interviews and job sites (some of which are not metro accessible).
In the uncertainty of this last year it helped to have another way to offer support to the young people we serve.
As always, we are grateful to everyone who has donated and those who have supported individual DCFYI youth this year.
A pandemic is no time to be facing adulthood alone. Thank you for ensuring DCFYI youth have family.
We welcome your support as we look forward to a year with more events, welcoming new teens into the DCFYI family, and being able to gather again safely. You can donate on the DCFYI website.
Thank you,
Susan
---
Upcoming Events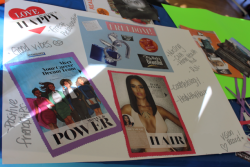 March 27 - Virtual Vision Board event
We are holding virtual events with limited group size at this time. We plan to start small, in-person events later this spring as conditions allow. We will expand to larger events when it is safe to do so. We can't wait until we can return to larger events and welcome everyone to attend!
Event details are on the DCFYI website calendar.
Please contact Chanelle for information and to RSVP.

---
One Year Later . . .
When things started to shut down last March, many of us thought it would only be for a few weeks or months. As we scrambled to adapt and adjust, few groups were harder hit than the young people served by DCFYI. But over the past year, the DCFYI community has rallied around these young people and continued to provide support.
Among our changes - virtual events, some small, masked events in the fall, and then a holiday gift hand-off rather than holiday party. A sampling of pictures from our reimagined year: