One aspect of social capital is
the interpersonal relationships, institutions, and other social assets of a society or group that can be used to gain advantage.
Stated another way, it's the people who introduce us to others, tell us about opportunities, and help us find jobs.
I read somewhere that 60 percent of jobs are found through networking. Which means that people with strong networks have a huge advantage over those with limited networks.
Most of us build our networks by belonging - to family, schools, through extracurricular activities, membership in societies, religious institutions, even workplaces. It's hard to build networks if you don't have stability or move around so much that you don't get to belong anywhere for long periods of time.
Our primary focus at DCFYI is building relationships for youth who are in foster care. But building relationships also helps youth begin to create social capital.
We love seeing even seemingly casual relationships between teens and adults lead to a new job or opportunity for a DCFYI youth. And we are excited to be adding new programming that has the potential to create even more social capital for youth who have already aged out of care.
You can't have too much family and you can't have too many relationships "that can be used to gain advantage."
Thank you for helping bring social capital to DCFYI youth!
Susan
---
Upcoming Events
Birthday Party!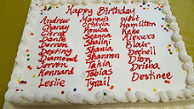 Saturday, September 11,1:30 PM
Our annual celebration of all DCFYI teens' birthdays, outside and in a new location.
Park Afternoon
Saturday October 9, 1-4 PM
Join us for an outside afternoon of games and fun.
As we continue to watch covid numbers, we are keeping event attendance low and prioritizing unmatched teens and adults. Please contact Susan for information and to register for events.
Events are on the DCFYI website calendar.
---
Birthdays all Year Long
In addition to the annual birthday party, we celebrate birthdays by sending every DCFYIer a card and book on their birthday (because you can never have too many books!). Our book supply is getting low so we have created a wishlist at East City Bookshop. If you would like to help DCFYI teens celebrate their birthdays, please buy a book or two for them!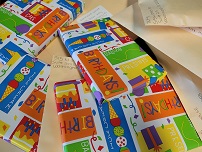 You will need to create an East City account (takes maybe five seconds) and designate your purchase for store pick up and donation to DCFYI.
Thank you!
---
Open Table
We are excited to be adding a new aspect to our programming, specifically for youth who have aged out of care and would welcome added adult support.
Open Table is a national model that brings together "Tables" of six to eight volunteers who commit to weekly meetings for a year with and to support one young adult. Youth set their own goals; Table Members help them achieve those goals.
Join us for the September 21 Open Table Kick-off to learn more!
---
DCFYI's annual Establishing Roots fundraising reception is Wednesday, October 13, 6:30-9 PM.
We can't wait to be in person at the Eastern Market North Hall again this year!
Get your tickets here. We look forward to seeing you.