,
This week's cooler weather (at least here in DC) and back to school rituals has me thinking about the patterns of our lives and how some are predictable (and others not).
As someone who grew up in the northeast, cooler weather signals back to school and shorter days followed by some of my favorite holidays. Except for the decreasing daylight, I look forward to this time of year (and the respite from the heat of summer).
At DCFYI, fall means the fall festival, adventure park, holiday party (and someday, when we are back inside for events again, also a pre-Thanksgiving dinner).
Again this year, fall also means our reconfigured birthday party. We are looking forward to gathering this weekend for games, dinner, cake, and presents! The all-teen birthday party is a DCFYI family tradition, one of the events we have done every year (except 2020) starting in our pre-DCFYI days.
Traditions are both one of the ways we mark the seasons of our lives and among the things we create as families. Many of us have some that go back to early childhood. We add and adapt new rituals as we add to our families and create new ones.
Too many DCFYIers do not experience set traditions while in foster care. For some, their only birthday parties (and graduation celebrations) are the ones we throw for them.
We think traditions are important - for all of us. And feel honored to be able to create new ones for DCFYI participants. We know how important they are when a youth asks when we're doing an event we have done consistently in the past or share that they still have their first birthday party quilt or just looked through a photo album (a birthday party tradition).
We'd love to hear about your favorite traditions! What do you look forward to doing every year?
Susan
---
Upcoming Events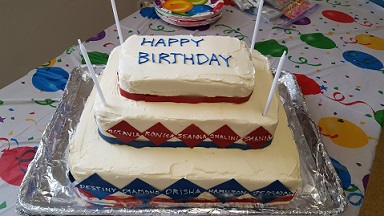 Annual Birthday Party - Saturday, September 10
Fall Festival - Saturday October 8
We continue to hold all events outdoors for now as we watch covid numbers (and new variants) and vaccination rates. We will cancel an event should conditions warrant and look forward to when we can safely return to indoor events.
Events are on the DCFYI website calendar, where you can RSVP.
---
We're Hiring
Family & Youth Initiative is looking for a motivated individual to join our team as the full-time Program Coordinator. The Program Coordinator will be responsible for managing and driving forward DCFYI's core programming. We are looking for someone who is organized and highly relational, who will build relationships with youth participants and adult volunteers for the purpose of helping them match with each other.
Information and application here.
---
Establishing Roots!
Join friends of Family & Youth Initiative for Establishing Roots, our annual fundraiser. Wednesday October 12th. It's a fun evening of food and drink, a silent auction, and the highlight of the evening - hearing from a DCFYI youth and volunteer!
Buy your tickets or sponsorship now! We look forward to seeing you.