Foster care stories this time of year tell such an interesting story.
On the one side are the feel good stories, including coverage of adoptive families celebrating their first holidays together and new families created on National Adoption Day.
On the other, stories about how hard the holidays can be for young people who are in foster care, especially those waiting for family.
Both help tell the full story and raise awareness, especially of older children who wait (and are the least likely to be adopted - nationally, over 20,000 young people age out of foster care every year).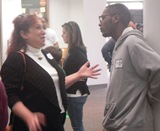 Leah & Dayar the day they met
I am grateful for the volume of coverage and that each local story brings wonderful new volunteers to DCFYI! And of course excited that the Wednesday's Child story on DC Adoption Day in Court featured Dayar and Leah.
If you are in the area and want to learn more about adoption, Saturday is your day. Family & Youth Initiative will be one of many organizations at the
Adoption & Foster Care Expo
(11 AM to 3 PM, Carnegie Library). This free event is a fabulous opportunity to talk to a range of agencies and hear from parents and professionals about adoption and foster care. Please tell others - maybe friends who have asked about DCFYI or adoption but may not be ready to commit. Help us find families for waiting children. We'll see you there!
If you are ready to host (or think you might be), let me know so I can include you in updates on the host parent training we will be holding in the new year.
And if you are looking for a way to give back this holiday season, we could still use donors to fulfill teen wish lists for the holiday party. Please
email
if you would like to participate.
Thank you,
Susan
---
Upcoming Program Events
Our next program events:
ARTOMATIC outings, this weekend and next. Email if you would like to join us;
Gingerbread House & Holiday Party, Saturday December 19.
Check the website calendar for event details and to RSVP. Please email if you want details on small events (which may not be added to the website calendar).
At DCFYI events you'll get to meet teens and other adult volunteers. We guarantee you'll have a good time and will want to come back to get to know the teens better.
We look forward to seeing you!
---
Thank you
Linda & Tammy for another fun
afternoon at the adventure park
(third year in a row)!

Manoj & Sarah for another afternoon
of cooking - we are slowly working
our way through world cuisines.
And to everyone who has donated in support of our work!
Thank you. DCFYI would not be connecting teens with families if not for you.