Last month, the DC Council held oversight hearings for every city agency as part of the annual budget cycle. The Committee on Health and Human Services has
oversight
over the Child and Family Services Agency. Many people testified at the hearing - foster parents, attorneys, social workers, agency administrators, and current and former foster youth.
The young people are at different points in their lives - some in school or working and optimistic about the future, others have aged out without employment or housing in place and anxious about both their current situation and future.
Certain themes emerged. Some young people who had aged out talked about being unprepared and losing too much support abruptly. Other youth talked about the pain of having professionals come and go in their lives (also often abruptly), which led one to say she would no longer engage in a therapeutic service because it was too much to "open up" all over again with another adult.
Some youth talked about not being aware of or being able to access services. (Maybe the most troubling was the high school senior who if her adoption finalization had been just two months later would now be eligible for CFSA financial support for college - support she is now unable to access.)
Other young people talked about the importance of consistent, persistent adults. One talked about the difference a foster parent had made by getting her into a supportive, challenging high school. Her recommendation to the committee was to:
make sure all youth have someone consistent in their lives at home or at school who can be an educational advocate.
My take away from listening to this cross-section of young people is that we have a long way to go to successfully support teens in care. Too many of them do not have consistent adults who will listen to them, know what supports should be coming from the foster care system (and how to access them), and understand how to empower and push young people to use their strengths, work through their challenges, and become all they have the potential to be,
Susan
---
Upcoming Program Events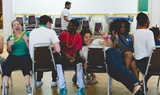 Birthday Party; Saturday May 14.
Event details on the website calendar, where you can also RSVP.
At DCFYI program events you will get to meet teens and other adult volunteers. We guarantee you'll have a good time and will want to come back to get to know the teens better.
We look forward to seeing you!
Please let Molly know if you would like to contribute to birthday gifts for the DCFYI teens. We can still use help with books and socks. (Molly will give you details.)
---
Please Join Us
Wednesday evening May 18
Vinoteca (1940 11th St., NW)
---
Table with us
As the weather gets warmer, we will be out at farmers markets and festivals talking to people about DCFYI and teens in foster care and their need for host parents, mentors, and adoptive parents.
The more people we talk to, the more new volunteers and adoptive parents we can find. Sometimes it is that simple.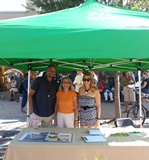 The more people who join us to "table," the more festivals and events we can do.
If you would like to join us - whether for one event or many - please contact Enajite to let her know.
This Saturday we'll be at Volunteer Capitol Hill (10 AM to 1 PM). Not yet a DCFY volunteer and want to learn more? Come talk to us (and the other 35 organizations also scheduled to be there)!
---