Do you do birthdays up big or try to ignore them? Has that changed since you were younger?
October is Family & Youth Initiative's birthday. We are celebrating our 10th year. Funny thing is we actually turned 10 a year ago, but in the chaos of responding to the pandemic we completely forgot. So we are now celebrating the end of our 10th year. Because why not?
Last month we held our biggest program event since the start of the pandemic. Fittingly it was the birthday party where we celebrate the birthdays of all DCFYI teens. We weren't able to have everyone attend this year but it was a mix of new teens (and adults) and those who have participated with us for a longer time. Definitely different given that we were outside. But the weather was beautiful, we got to play our favorite games, and there was such excitement to be back in person and see others we have missed. Such a reminder of how important this community is to all of us.
Whether you are usually a birthday celebrator or not, I hope you soon get many occasions to see those you have missed and to make up for lost celebrations over the past year and a half.
Thank you for putting birthday celebrations and the people who make those celebrations memorable into the lives of DCFYI youth!
Susan
---
Upcoming Events
Kickball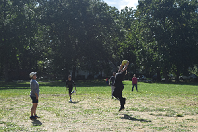 Saturday, October 16,1:30 PM
We play to win, but spectators are welcome also.
Treetop Adventure
November date will be posted soon
Holiday Party
This year's party will be outside; we are hoping for a warm December day. Tentatively December 11.
As we continue to watch covid numbers, we are keeping event attendance low and prioritizing unmatched teens and adults. Please contact Susan for information and to register for events.
Events are on the DCFYI website calendar.
---
Birthdays all Year Long
Thank you to everyone who has bought books for individual DCFYIer birthday gifts. We are so grateful for your support!
We have added some new titles to the East City Bookshop wishlist (including poetry) in case you still want to donate.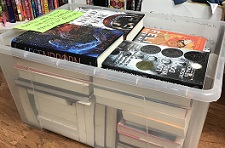 You will need to create an East City account (takes maybe five seconds) and designate your purchase for store pick up and donation to DCFYI. Thank you!
---
Holiday Gift Giving
It will soon be that time again! We will be collecting DCFYIer wishlists starting this month. If you would like to contribute to the gift giving, please let Mala know. We give youth a cap of $150 for their wishlists and can split a list between gift givers.
---
Open Table
Training for the first Open Table members starts soon. It is not to late to join them. Contact Patrick to learn more and get started. A number of the DCFYI youth already aged out of care are looking forward to having tables.
---
DCFYI's annual Establishing Roots fundraising reception is Wednesday, October 13, 6:30-9 PM.
We can't wait to be in person at the Eastern Market North Hall again this year!
Get your tickets here. We look forward to seeing you.