,
Early August is when I realize summer is almost over and I haven't done things I looked forward to - no afternoon at a pool or kayaking the Anacostia River (yet!). But I take comfort that this is my usual summer pattern (including an upcoming extended family week at the beach).
Patterns are important - they help us know what to expect and how to prepare.
But what if you're facing something for which you neither know the pattern nor have someone to help you prepare?
August is also back to school month for many, including those heading off to college for the first time. For some aspiring college students, especially those from low-income families, it's the month of summer "melt:"
as many as one in five high school graduates who have been accepted to and intend to enroll in college fail to matriculate anywhere in the fall semester as a result of unforeseen challenges they encounter during the summer.
The reasons make sense: students do not understand enrollment paperwork, have money problems, and/or parents or friends who oppose their plans.​
Students who are in foster care matriculate at a much lower rate than their non-foster care peers. Many teens in foster care don't have support to manage the application or enrollment process; may have been given mixed messages about their abilities despite being at least as capable as other aspiring college students; worry about paying for college or where they'll live during breaks or after they graduate.
So it is with deep gratitude that we have watched DCFYI mentors jump in for the three DCFYIers who start college this fall (one who just decided he was ready three years after he graduated high school).
These students will do the hard work themselves; but we know from our own experiences that having someone who both believes in us and will be there if we need support, can make all the difference!
We are grateful to all the DCFYI volunteers who embody that essential commitment to youth. And we thank you for supporting Family & Youth Initiative and helping us put amazing adults into the lives of DCFYI teens.
Wishing you a good end of summer and that you get to do the things you look forward to when days are warm,
Susan
---
Upcoming Events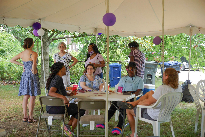 Pool Party - Saturday, August 13
Nationals Game - Sunday, August 28
We continue to hold all events outdoors for now as we watch covid numbers (and new variants) and vaccination rates. We will cancel an event should conditions warrant and look forward to when we can safely return to indoor events.
Events are on the DCFYI website calendar, where you can RSVP.
---
Giant Support
DCFYI receives $1 for every $2.50 reusable Community Bag purchased at the Giant Food at 300 H Street, NE. This month only!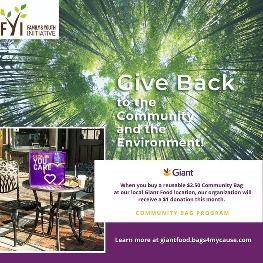 ---
Establishing Roots!
Have you marked your calendar?
Family & Youth Initiative's Establishing Roots fundraiser is Wednesday October 12th. It's a fun evening of food and drink, a silent auction, and the highlight of the evening - hearing from a DCFYI youth and volunteer!
Buy your tickets or sponsorship now! We look forward to seeing you.