Why a teen?
Because they need love and belonging just like all of us. Teens are not too old to bond or for you to mold. In fact, teens in foster care are some of the most loving young people you'll ever meet.
Teens who age out of foster care often have no place to call home. Nowhere to go for Thanksgiving dinner, no one to walk them down the aisle, pick them up when they stumble, or help them learn what it means to be an adult. They need parents to teach them what a loving relationship looks like, how to file their taxes, and how to disagree without fighting.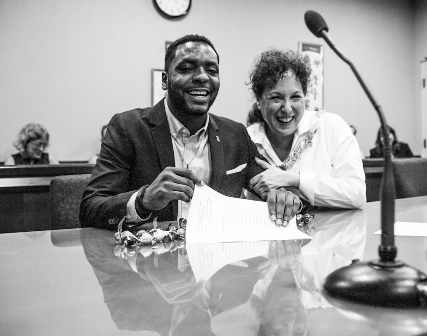 Never.
Which is why some young people get adopted long after they aged out of foster care.
None of us are ever too old to want and need family.
Adopting my son was the best decision I ever made...and a completely unplanned one. I chose to be a mentor and then couldn't imagine not having my son in my life. He has brought me more joy than I ever could have imagined.

Adoption is a leap of faith - and it certainly has its challenges - but the rewards are tremendous!

-DCFYI Adoptive Parent
Any adult (21 or older) who has space in his or her home, the time and energy to parent (yes, adopting a teen demands lots of time and energy), stable finances, can pass background clearances, and is willing to understand the needs of children who have experienced trauma.
Adoptive parents can be:
Married or single
Straight or gay
Own their own home or rent
Live in a house or a unit in a larger building
Wondering what it takes to make a good adoptive parent? Take this quiz.
What are the steps to adopting?
Find an adoption agency
Complete pre-service training and home study
Be matched with a child
Have that child live with you for at least six months before you can file an adoption petition
Adopting a child from foster care is not expensive. You won't have to pay agency fees or incur lots of other expenses.
While Family & Youth Initiative will not be the adoption agency (e.g., the agency actually placing a teen in your home), we will be with you every step of the way.
If you don't do your pre-service training and home study through us, we will help you find an adoption agency.
We will continue to provide support as you and your new son or daughter work through the joys and challenges of becoming a family.
Adopting a teen may be both the most challenging and the most rewarding thing you'll ever do. We look forward to joining and supporting you on this journey.