We've thought about adoption, but we did not feel comfortable adopting before truly getting to know the child. Host parenting is a great way to get to know teens first and feel like there is more control over the adoption process. 

-DCFYI Host Parent
Family & Youth Initiative host parents welcome a teen in foster care into their home for a series of weekend visits (at least two weekends a month for four months). Host parenting provides teens with intensive mentoring and new perspectives on adult life.
Prospective host parents and teens meet and get to know each other at DCFYI events before being matched for hosting.
Once matched, host parents and teens forge a special bond over weekend visits, incorporating the teen into the host's family life. They cook and eat together, have fun, do weekend chores, attend religious services, explore the neighborhood, and meet friends and neighbors.
Host parents can work with teens to help them accomplish goals, such as taking a college tour, preparing for job applications and interviews, or engaging in new experiences.
Host families create opportunities for other adults to meet and get to know the teen, greatly increasing the chance that the teen will meet a person or couple who will decide to adopt. Because they get to know the teen so well, a host family can serve as the teen's adoption advocate, talking to and creatively sharing with others about the teen and his or her desire to be adopted.
A host family's love and support helps a teen gain confidence in him or herself, in the possibility of adoption, and positive opportunities of adult life.
A desire to adopt or foster is not required of host parents.
Host parents change lives.
With my host parent it's like my home away from home. It gives me a chance to bond and create new relationships.

-DCFYI Participant
DCFYI prepares and supports host parents with training, support group meetings, and one-on-one advising. The training is the same course taken by prospective foster or adoptive parents. Course topics include working with children who have experienced trauma or loss, developing attachment, navigating cultural sensitivities, discipline, as well as hearing from someone who is already parenting a teen who was in foster care.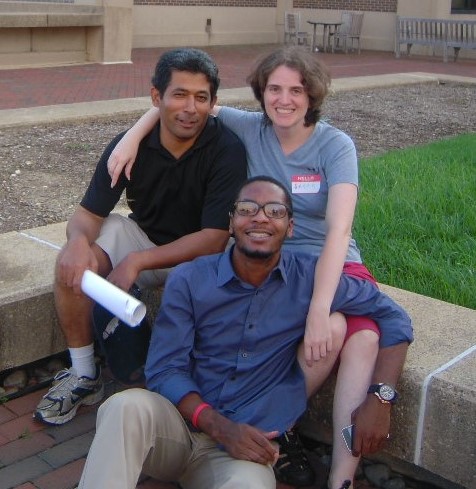 We feel any prospective parent would benefit from taking the host parent training course! It teaches compassion, empathy, understanding, and diffusing tense situations through discussions and exercises with an experienced social worker. Through the process, we have grown closer as a couple and feel much better prepared to work with teens.

-DCFYI Host Parents
Because you can have a lasting impact on the life of a teen. Introduce the teen to your lifestyle and offer your perspective on happy living, success, and independence.
Have your perspective on life as a teen in foster care changed, and share that newfound perspective with your community. Promote your friends and family members to serve as role models to your teen.
You'll have fun! You will share favorite activities and try new ones in the company of a teen who will be some combination of smart, outspoken, sassy, worldly, curious, insightful, skeptical and fun.
You'll be part of a wonderful community of volunteers who share lessons learned and support one another.
Host parents welcome a teen into their home at least two weekends a month for four months.
Host parents fully integrate the teen into their family life for visits and meeting the youth's needs while he or she is visiting. Most hosts and youth keep in regular contact between weekend visits.
Family & Youth Initiative host parents must:
Be at least 21;
Provide a nurturing home environment, including a bedroom for the hosted youth;
Have the health, energy and interest to spend time with a teen;
Complete orientation, training and a home study;
Have means of transportation or willingness to ride Metro to pick up youth for weekend visits;
Commit to helping the youth meet other interested adults.
Report to DCFYI with updates on weekend visits, developments, and any concerns.
Protect confidentiality by only sharing information about or from the teen with others who are working directly with the teen.
*Individuals with a current adoption or foster care home study do not need to redo training or home study so long as their agency will release a copy of the home study. Please talk to us to learn more.
A desire to adopt or become a foster parent is not necessary in being a host parent.
Listen to your matched teen and provide a safe place for him or her to discuss hopes and fears.
Invest in helping the teen become a mature young adult through supportive activities and discussions. Be honest and open about the joys and challenges of adulthood.
We encourage host parents to make a long term commitment to the youth, becoming a part of his or her extended "family." DCFYI seeks to decrease the number of youth who leave foster care without the support of a permanent caring adult.
Being more intimately involved with a teen has definitely solidified our interest in helping these kids find more permanent adult relationships be it mentors, host families or adoptive families.

-DCFYI Host Parents
Steps to being a host parent:
Attend DCFYI orientation;
Submit the host parent application (which you will get at orientation);
Complete 30 hours of pre-service training;
Complete home study.
While you are in process to become a host parent, attend Family & Youth Initiative events so you can get to know participating youth and be ready to be matched once you've completed your home study. We make adult-teen matches based on relationships that develop at events.