Hometown Heros: Family & Youth Initiative
July 12, 2019
DCFYI Executive Director Susan Punnett explains the importance of DCFYI's All-Teen Birthday Party event on the Mornings with Jerry & Blanca Podcast at WGTS 91.9.

Making up for birthday parties that were never had, group gives older foster kids a chance to celebrate
June 29, 2019
Theresa Vargas' column in the Washington Post.
"We tend to take for granted that children get birthday celebrations, that someone in their life will, at minimum, buy or make them a cake and put their name on it."
Ms. Vargas profiles a DCFYI teen, after conducting an interview in between musical chairs and the water balloon toss at the annual DCFYI all-teen birthday party. She captures her struggles, aspirations, and why the birthday party and DCFYI community are special to her.
The power of the birthday party is in creating a space where teens "get the chance to be silly and carefree, at least for a few hours. Whatever toughness they might present on other days falls away as they play children's games."
The difference one adult can make for foster children in D.C.
December 21, 2018
Long time DCFYI mentor Kathryn Maddux's piece in the "Close to Home" section of the Washington Post.
Kathryn describes her mentee's struggles both in foster care and since "aging out" of care and gaining a footing as an adult. She places those in the larger context of challenges faced by young people aging out across the country as documented in a recent report from the Annie E. Casey Foundation and the impact that DCFYI mentors are making in the lives of their mentees.
Kathryn's mentee continues to struggle. "However, I know that by at least offering a listening ear, helping find social services, navigating bureaucratic processes and providing a good meal every time we meet, she has come to trust me. And through her authenticity and perseverance despite the odds, I have come to admire and trust her."
DCFYI on the Radio
Greater Washington Urban League On Track Radio, November 20, 2016
In this interview a DCFYI adoptive mom and her son and the DCFYI executive director shared what makes DCFYI special.
Bittersweet Monthly
November 7, 2016
Bittersweet Monthly uses beautiful photos and prose each month to tell the story of "organizations doing inspiring and much needed work in response to the critical social issues of our day." Bittersweet Monthly readers selected Family & Youth Initiative as the November reader's special organization.
The result is magical, using the experiences of two DCFYIers, Robert and Dayar, to tell the bigger story of challenges faced by young people who age out of foster care and the impact one committed, caring adult can have.
"Brian helped me get into Duke Ellington School of the Arts. I wouldn't have applied if it weren't for him. That changed my life. He pushed me to do it. He helped with everything. He helped me with my homework, took me to shows across town, took me to my audition."
DCFYI's "Doc in a Day" Mini Documentary
How do you perceive teens in foster care? Watch this quick three minute video to meet some DCFYI teens and hear them tell you what DCFYI is all about.
Learn how one caring adult can make all the difference - maybe that adult is you.
Created for Family & Youth Initiative by an amazing "Doc in a Day" team from Stone Soup Films (on Vimeo).
DCFYI Mentors Teens Waiting for Adoption
NBC4 Wednesday's Child, November 18, 2015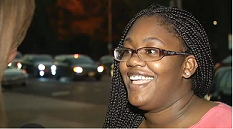 The evening of our Establishing Roots fundraiser, Barbara Harrison came early so she could interview a current and a former DCFYI teen who had previously been featured on the Wednesday's Child program. The wonderful segment she created from those interviews and footage from the fundraiser tell the story of how much DCFYI and the DCFYI community mean to the teens we serve. As Tanika regularly says, "DCFYI is my family."
Honoring Barbara Harrison at Establishing Roots Fundraiser
NBC4, October 8, 2015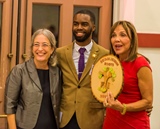 NBC4 ran this story about the DCFYI Establishing Roots fundraiser at which we honored Barbara Harrison, NBC4 News Anchor and creator and host of Wednesday's Child.
 
Charities that Inspire Kids: The Family & Youth Initiative
The New York Times Motherlode, December 31, 2014
A DCFYI volunteer talks about getting involved with Family & Youth Initiative, becoming an adoptive parent of a teen, and how she and her son continue to give back.
 
I've Always Wanted a Place to Call Home
The Washington Post, November 21, 2014
On the eve of Adoption Day in Court, a profile of a newly formed family: a DCFYI teen, her son, and the adoptive parents she met and got to know through DCFYI.
 
After Finding a Forever Family, Thomas Gives Back
Dave Thomas Foundation for Adoption Success Story
Feature on Thomas, a former NBC4 Wednesday's Child, so viewers could meet his mom and hear how he is giving back to DCFYI after being adopted. The feature was filmed and aired in the summer of 2014 when Thomas interned with DCFYI; it was great to have a former program participant working in the office!
 
National Foster Care Awareness Month in the US - Let's help our teens!
Voice of Russia Radio, May 2, 2014
Radio interview with DCFYI Executive Director covers teens aging out of foster care, teen adoption, and our Chain Reaction fundraiser.
For Teens in Foster Care, Adoption is a Lifeline
The Washington Post, January 5, 2014
Erica Rosenberg and Susan Punnett, DCFYI Executive Director
This opinion piece appeared in the "Local Opinions" section on how "there's no age limit on love" and the difficulties faced by young people who age out of foster care without families. Includes overview of the innovative DCFYI approach to helping teens in foster care find adoptive families using informal events that minimize pressure, allowing teens and adults to meet and get to know each other.
 
Foster Families Take Center Stage
NPR, June 3, 2013
Neda Ulaby
Preview of new ABC Family series The Fosters features a live review with a DCFYI host/adoptive family and comments from DCFYI Executive Director Susan Punnett.
 
Family and Youth Initiative Seeks To Give D.C. Foster Teens Loving Homes
Huffington Post, January 25, 2013
Chelsea Kiene
The Huffington Post reports on Family and Youth Initiative's impact on young people who would otherwise age out of the foster care system. DCFYI is featured as the only program in the District of Columbia that works to get older youth (ages 12 to 21) adopted.