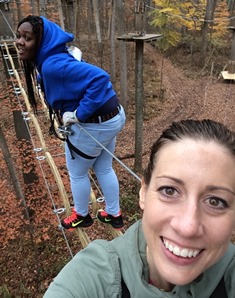 Kristen
Mentor
I've been volunteering for five of the last seven years when I've lived in the DC area, mentoring a teen who is now 19 AND adopted.  Over the years we've gradually grown a close bond just by spending time together, whether it's been at DCFYI events, roller skating, going to movies or restaurants and other activities.  What we've enjoyed most of all is we've both grown a passion for baking together.  We've made cakes, cookies, and other treats for special occasions and usually for no reason at all.  We've both gotten better at it while enjoying many laughs.  It's been a great way to focus on an activity while also getting to know each other better.
I am so happy to maintain our relationship while my mentee has been adopted.  It's a challenging process for a young adult, and I see the value in being a consistent caring person in her life as she goes through the transition and figures out how she wants to spend her adult life.
Besides being a mentor, I feel like so many other DCFYI mentors and host parents share a greater privilege of mentoring and inspiring all the interesting and fun teens in the program. Sometimes I wonder if we or the teens get more out of the program. I have not only had the opportunity of being a friend and a quality adult in many of these young peoples' lives, but I have gotten to watch them grow and see the tremendous impact this program has had on their development. Nothing pleases me more than to see them achieve success, no matter how challenging it has been for them while growing up without a stable home or parents who love them. I've seen some improve their grades, figure out what they want to be when they grow up and make changes in their lives to make that a possibility. I've seen them graduate 8th grade and high school, perform at a community dance program, or even use their speaking and leadership skills to lead a DCFYI event, whether it's the Talent Show at our Birthday Party or a College and Life Skills training that DCFYI hosted.
Through DCFYI, I have learned so much and have gained a great friend who is an integral person in my life. I am grateful to Family and Youth Initiative for creating such a strong and supportive program that has made our relationship possible.